The Foreign Affairs Minister, Gen. Jeje Odongo, has received the credentials of the new Ethiopia's Ambassador Extraordinary and Plenipotentiary to Uganda, H.E. Etsegenet Bezabih Yimenu.
During the meeting, both sides expressed their keen interest to deepen the existing bilateral relations emphasizing cultural and people to people relations and agreed to Sustain the cooperation of the two countries at the regional and international fora.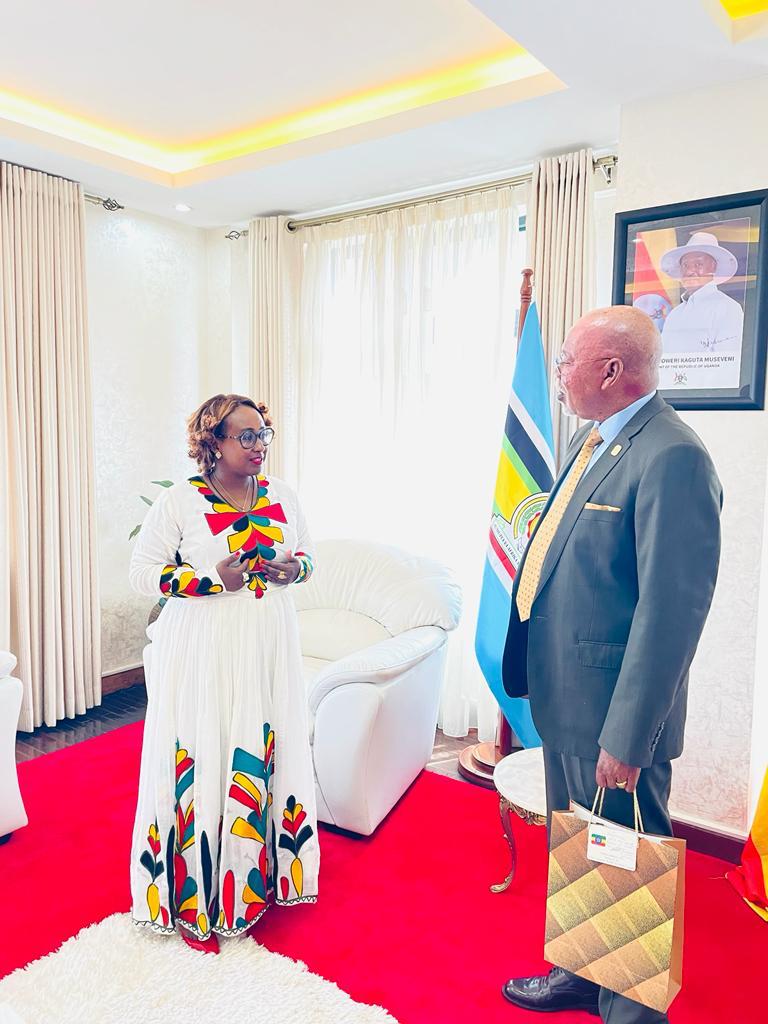 H.E Etsegenet was recently appointed to replace former Ambassador H.E. Alemtsehay Meseret, who ended her diplomatic tour of duty to Uganda in December last year after four years of service.
Speaking during the event organised to welcome her by the Ethiopian Embassy in Uganda last week, H.E. Etsegenet expressed pleasure about her appointment, before pledging to further the existing good relations between Uganda and Ethiopia.
"I am so happy to be here. I want to thank my President, H.E Sahle-Work Zewde, for believing in me and appointing me Ethiopia's Ambassador to Uganda. I also thank the Prime Minister, Dr Abiy Ahmed Ali, the Deputy Prime Minister and Foreign Affairs Minister for believing in me," H.E. Etsegenet said on Tuesday.
"Having served for a long time at the Ministry of Foreign Affairs, this is a promotion and I am excited about it. I am so happy and glad to be in this beautiful country. As you are already aware that our two countries have longstanding good relations, I promise to do my best to further strengthen them," she added.
According to the Ambassador, her focus will among others include using the people-to-people approach in order to further cooperation.
"I will not only focus on government-to-government, but also people-to-people. We will not only share about economy and politics, but also history and culture. I want to thank the staff of the Ethiopian Embassy, and Community in Uganda for the work well done and I hope we will continue doing so as a family," said Ambassador Etsegenet.
Ambassador Etsegenet previously served as Director General of Women's, Children and Youth Affairs at the Ministry of Foreign Affairs in Addis Ababa.
Uganda and Ethiopia have enjoyed being strategic partners for long cementing this relationship by signing strategic partnership agreements and Memoranda of Understandings (twenty four) in Water, Defense, Tourism, Education and Security.
The agreements have further reinforced and mounted the two countries stands on common regional affairs such as signing of the CFA.