President Yoweri Kaguta Museveni Tibuhaburwa has applauded Oil Palm Uganda Limited (OPUL) for its transformative agenda.
Addressing thousands of Oil Palm Growers under their umbrella body Kalangala Oil Palm Growers Trust (KOPGT) at Kibanda Primary School grounds on Friday, a jovial Museveni revealed that he does not regret encouraging islanders to embrace oil Palm Growing.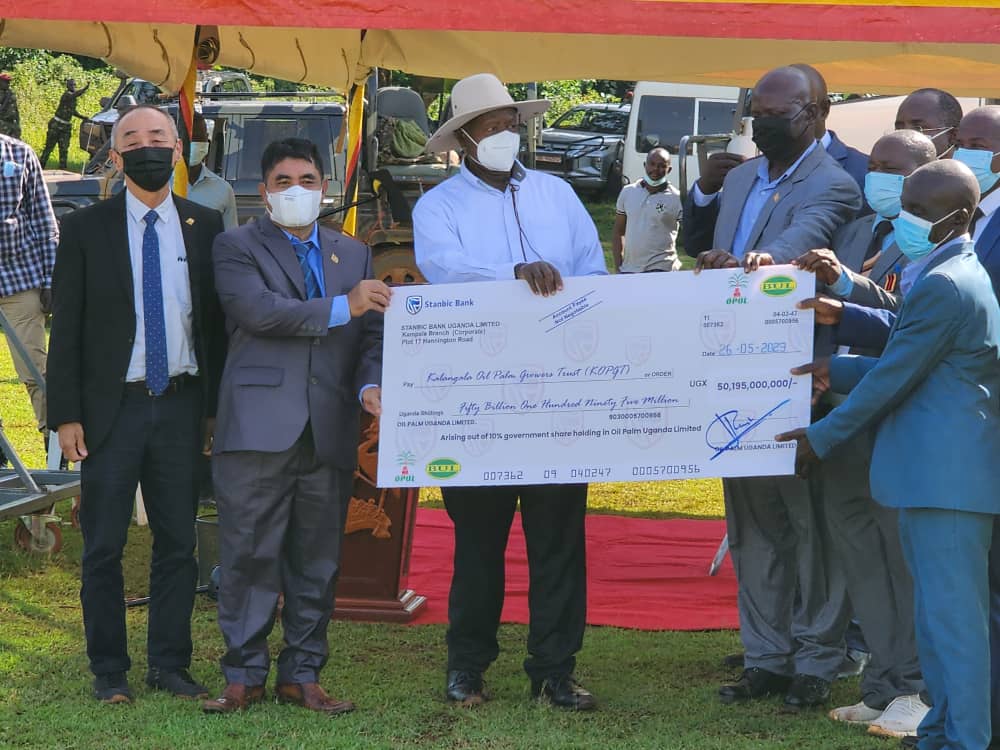 "Initially when these investors came here,some doubting Thomas' did not believe how developmental these investors were but as time went by,their actions exonerated us and as they say, the rest is history," Museveni happily said challenging other islanders moreso those from Kyamuswa County to embrace Oil Palm Growing sooner than later.
At the same function, Museveni received a UgX50,195,000,000 billion Dummy Cheque from Oil Palm Uganda Limited's General Manager-Damanik Saridin and C.E.O Africa Plantations Chin See Siong arising out of 10% of Government of Uganda's Shareholding in Oil Palm Uganda Limited where the President directed that let this money be used as a revolving fund in addition to purchasing a ferry to carry farmer's produce.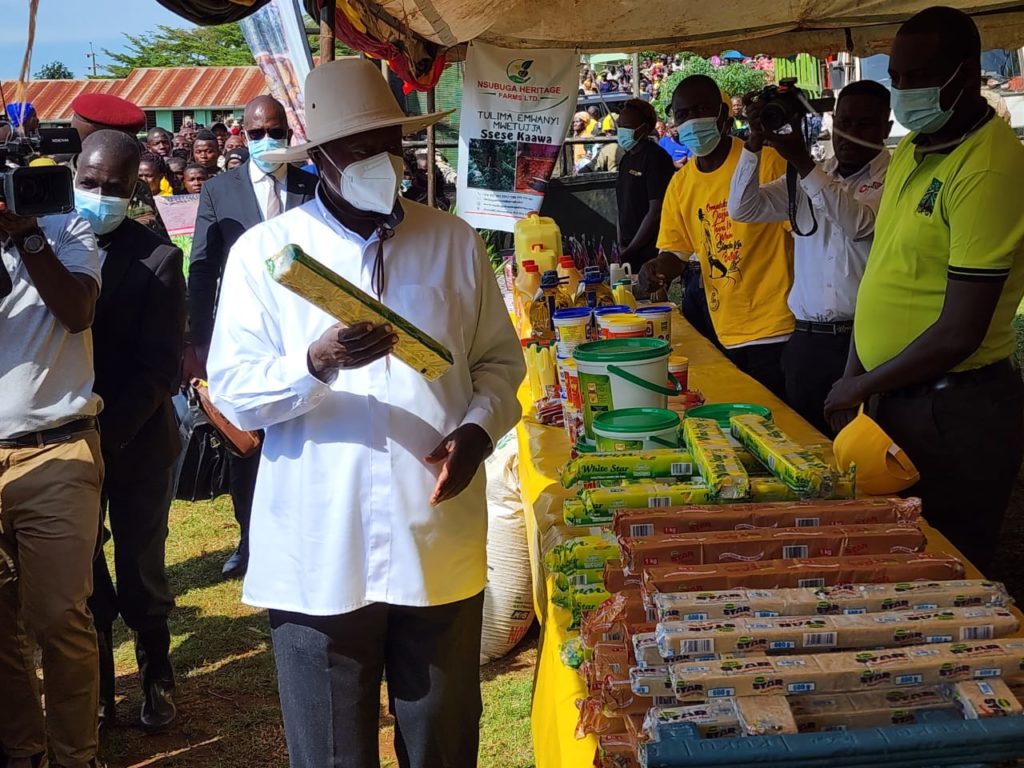 He directed that these dividends should not be used for social services as had been proposed by earlier speakers since his government is responsible for such.
Flanked by Ministers Aisha Ssekindi (State for Water), Fred Kyakulaga Bwiino (State Agriculture) and Gen.Edward Katumba Wamala (Works & Transport),Museveni noted that prior to coming to Kibanda Primary School, he had visited elder Tabitha with 4 acres and Ssesanga with 12 acres of oil Palm and that the duo were annually collecting close to UgX60m and UgX90m respectively courtesy of the miraculous crop thereby attracting his attention.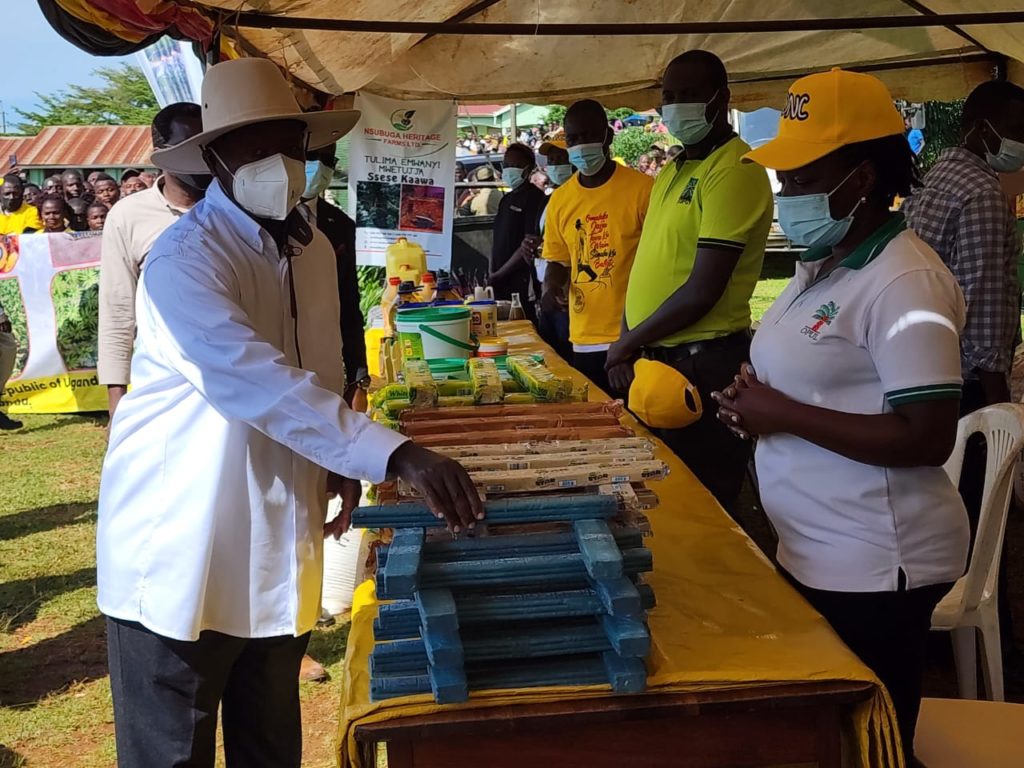 Museveni also asked Ugandans in gazetted oil Palm areas to support this project like in Sango Bay and other areas such that the investors realize their dream of over 100,000 hectares to help them attain their target.
"Due to lack of land,these people went to Nigeria where they acquired over 200,000 hectares of land for oil Palm.This is contrary to our meager 10,300 hectares that they currently occupy which represents 20% of oil being produced here with the 80% being imported from Malaysia," he decried revealing that after COVID 19,Malaysia changed about exportation of its oil.
Emphasizing that oil Palm Growing is an economic game changer, Museveni advised oil Palm Growers to also add poultry, animal husbandry and black soldier flies as extra enterprises to minimize costs involved in buying fertilizers.
He also promised a lorry to each of the oil Palm Growing parishes on the island moreso from Bujumba County and that the investors must be supported as and when need arises.
During the President's Sppech, Agriculture State Minister also Kigulu North MP Fred Kyakulaga Bwiino assured the islanders that oil palm growing has been verified and proved beyond reason doubt as the best crop for water surrounded areas like Kalangala, Kibale, Kagadi, Northern corridor among others and that if the communities around embraced oil palm growing, Uganda shall be able to realize the much needed 410,000 metric tones making it inevitable for the country to also export palm oil since it will be in excess.
On his part, OPUL's General Manager Damanik Saridin who was flanked by Chin See Siong (CEO Africa Plantations) noted that as investors, they thank the government for the cordial working relationship that keeps enabling them to grow.
However, he notes that the land issue remains a big obstacle for their expansion in schedlued areas of Buvuma, Mayuge Hub and Sango Bay which hinders progress.
Appealing to Government to find a lasting solution, Damanik revealed that they have been able to support the community around in education by upgrading classroom blocks,building new classrooms and a dormitory, supplied desks,offered computers, scholastic materials, offered bursaries at Beta Primary School, Busuwa Primary School, Bwendero Primary School and St. Theresa Primary School.
On the issue of health, OPUL has also supported health centers with medical facilities just like it worked on the over 620km roads within the plantation and managed to create both access and ring roads for the community.
Rajab Ssemakula, LCV Chairman for Kalangala District was all praises for OPUL for the tremendous development it has caused in his area.
"Your Excellency, OPUL is a unique company in our area.Apart from employing our people,it's doing good work as regards social services.The farmer's on average earn UgX1.6m monthly per acre which is unprecedented and as current leaders,we are more than ready to continue supporting them as far as expanding their project is concerned," the District Chairman said noting that the Oil Palm SACCO alone with a membership of over 980 subscribers has over 5 billion shillings in savings which was never heard of before the project started and that its high time government boosted the SACCO with more funds.
He noted that all islanders have since resolved that its only oil Palm that will help fight poverty with the fishing business being nolonger viable.
David Balironda,General Manager Kalangala Oil Palm Growers Trust noted that with 10% shares accruing from 5 years in their coffers,they are bound to boost their farmer's with extra support to have better yields.
"We commend OPUL for being pro-people and honoring it's side of the bargain. As KOPGT,we shall put these received funds to better use and as advised by the President,these funds will be more of a revolving fund among farmers generally," he said.