President Yoweri Kaguta Museveni has praised the people of Greater Masaka subregion for creating wealth through commercial agriculture.
The President said he was very happy that people in Greater Masaka listened and responded positively to his wealth creation gospel and now, they have been able to improve their livelihoods.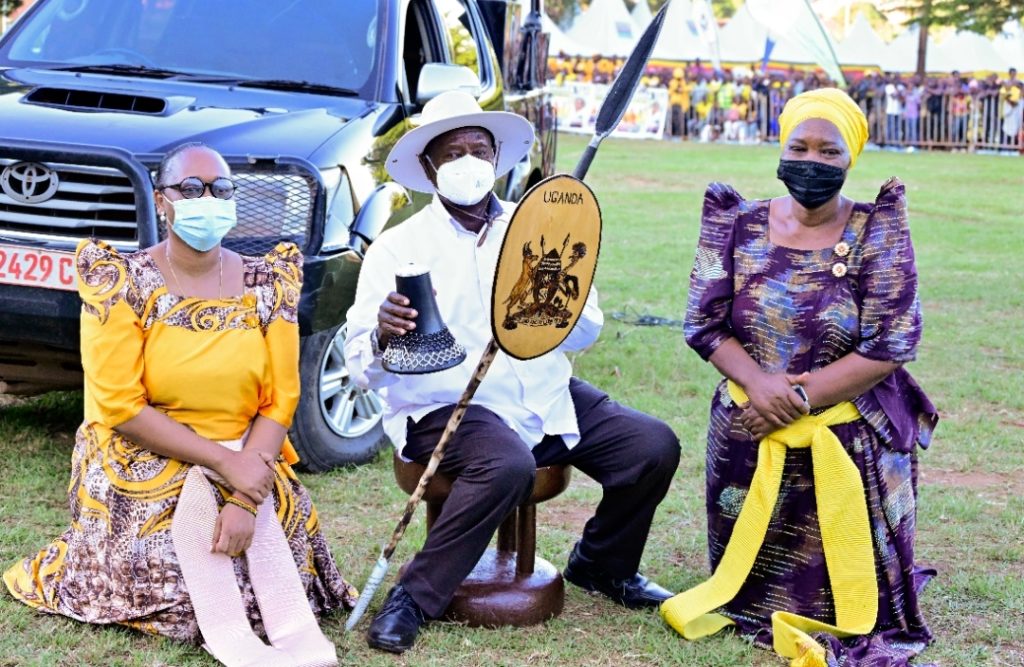 "I must tell you that I was very happy with Masaka when I came because even from the air (travelling by plane), I could see that many people have responded," he observed.
The President made the remarks today during his ongoing Investment and Wealth Creation tour in Greater Masaka running under the theme: "Securing your future through wealth creation and shared prosperity" in Masaka city.
He explained that when someone like him is preaching transformation, he is like a Sower in the Bible; where some of the seeds fell on the rock and didn't germinate, others fell on the thorns and grew badly but some fell on fertile soils where they produced and multiplied.
"We started these campaigns in the 1960s but later we were disrupted by Amin but when we came back in the 1980s, we resumed our campaigns. After an analysis, we discovered that our people could grow bananas, coffee, and rear cows for milk. In 1989, we brought milk coolers and by 1995 people had started making money in the Ankole cattle corridor and other areas surrounding Ankole. So, if you go into that cattle corridor that is the whole new story now. They no longer sleep in grass thatched houses, they have solar panels, clean water. We have succeeded there," President Museveni said.
The President also reminded the people of Masaka about the four-acre model initiative, saying it's a major development plan that will help the ordinary Ugandans with limited land to create wealth.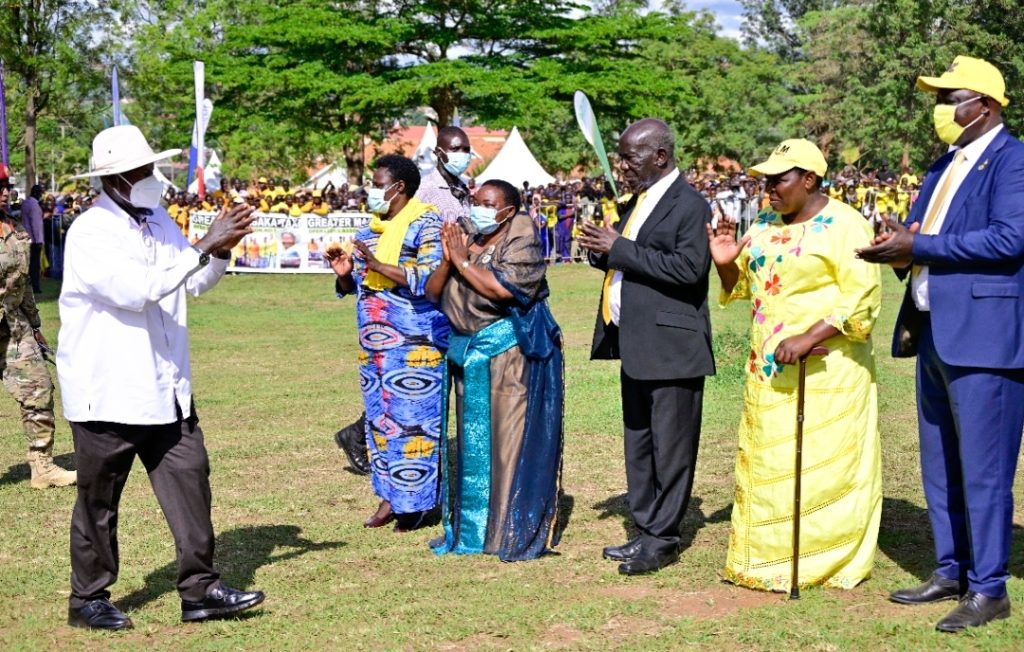 "In the 1996 NRM Manifesto, we proposed the 4 acre model and then we said if you have 4 acres; put coffee on 1 acre, on the second acre put fruits, the third one pastures for zero grazing and the fourth acre put food crop for the family, then in the backyard do poultry, then you can put pigs if you're not a Muslim. If you're near a wetland put a fishpond. This was what we put in our 1996 Manifesto but as usual, people do not put into consideration these useful things, they are always in politics of shouting," he stressed.
"But in Masaka it's evident that many people listened to our call, and this is so good. When I come, I always come to see what is on the ground. That is why I insist on seeing people who have changed their livelihoods," he added.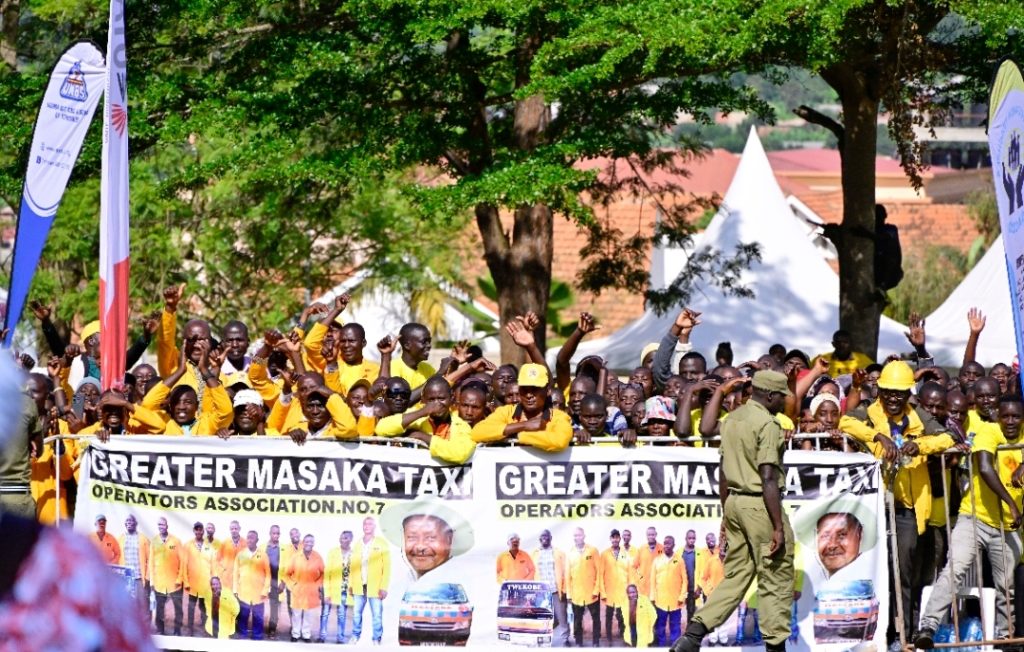 The President also cited examples of some farmers in Masaka who have been able to make ends meet through commercial agriculture.
"Yesterday I visited a place called kakunyu and I found a wonderful group there. First of all, those youths are educated people with one of them being a Professor at Busitema University. These are 401 members of a cooperative and they grow coffee on 120 acres of land and intercrop with bananas. They make Shs8m per acre and Shs10m per acre from bananas. They are a good example. They got the seedlings from Operation Wealth Creation (OWC) for the initial 40 acres," President Museveni said.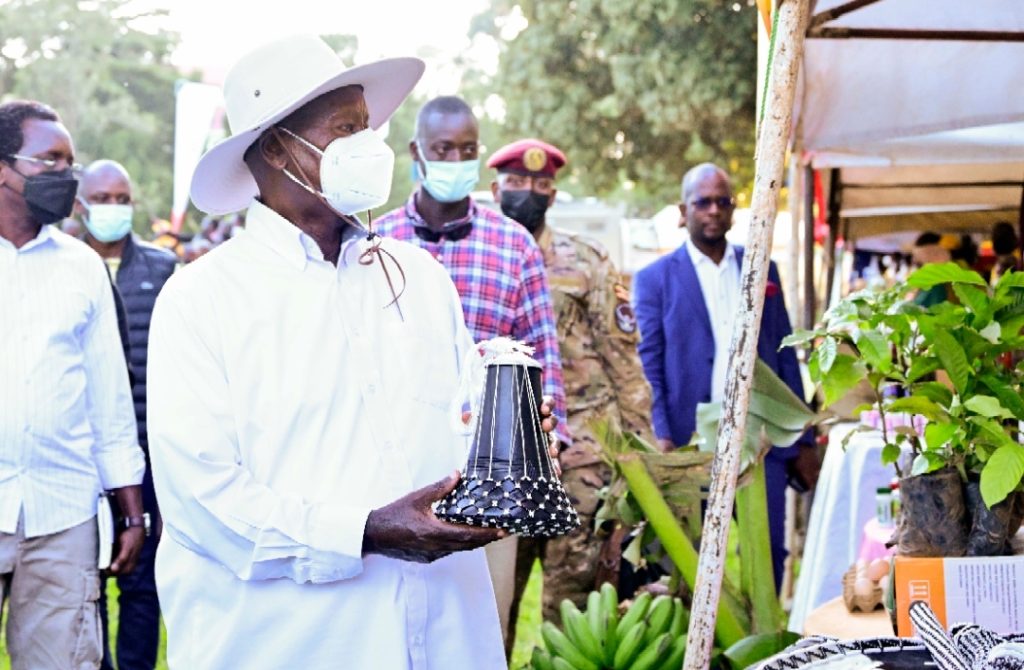 "Then I went to Kyesiiga. Now this person here has 20 acres of coffee and 20 acres of pineapple. He gets Shs12m from 1 acre of coffee. Why is he getting Shs12m? Apart from getting seedlings from OWC, he got a water irrigation pump from the Ministry of Agriculture. I think because of spraying, that is why he is making more money. He has also gone further from planting 450 seedlings and to 1000 something seedlings on one acre of land and because of that he makes Shs20m from one acre. Now you can see that he can make Shs400m from the 20 acres. Here in Masaka, Kyesiiga you have someone who can make Shs400m from 20 acres," he noted.
On the implementation of Parish Development Model (PDM) and Emyooga, the President assured the people of Masaka that the government programs will be a success, all they have to do is to be cautious and patient.
"Let us work like rebels, the rebels are organized people. Now if there's any corruption, anything bad you see in your area, I have taken a few numbers of the people who could speak, I will call them, and they will tell me more. I'm going to put a number on the radio, you ring it and give us information. You simply give the facts and don't waste our time by telling lies. In that way the team will check out the facts on the grounds," the President assured.
President Museveni's response followed a statement made by the Bukomansimbi Resident District Commissioner (RDC) Jane Frances Kagaayi who had said that the PDM implementation was delayed in the district due to some technical glitches in the system where they found out that a number of people on the list were not eligible to be among the beneficiaries.
"You have heard what Kagaayi has said, it seems the organizers of PDM have put a lot of elitism. We are going to study that because in the parish, all farmers should join the Parish SACCO whether you are rich now or not but we need to work as a Parish to create wealth. In my area Kisozi, you cannot say Museveni cannot join the association of farmers because he is rich, no! we should all be members, then we elect the leadership but in deciding the use of money, we should have guidelines that if you are giving out the money start with those outside the money economy," he clarified.
"Those ones outside the money economy please let them come in. Secondly, we should consolidate the ones who are already in the system. For example, those in Kakunyu lack the irrigation system. And we are going to study the issue of fertilizers. Should we put subsidies there or? When I say that I assist those who use fertilizers it is a different story because we are creating wealth."
On the issue of paying back the funds from the Emyooga and PDM SACCOs, the President assured beneficiaries that they should take their time while returning the money to their respective SACCOs.
"The borrower of Emyooga money can decide to pay it all or in installments but finishing in 24 months and with an interest of 8 percent per year. When it comes to PDM because it deals with agriculture, I don't what you to pay in 2 years because I have never seen a cow that gives birth in 4 months, it takes 9 months and coffee 18 months to harvest. Therefore, agricultural people will start to pay after 24 months. Then you can pay in installments or pay it all within 36 months," President Museveni said.
"My Muslim friends say they fear riba (interest). This money is your Parish money. Is the Quran against a grant? This is a grant from the Government of Uganda to your Parish people. It only moves in rounds within you. The only interest we imposed is for checking inflation. PDM and Emyooga are medicine for fighting poverty among the low-income earners," he added.
The event was also attended by among others; the Vice President H.E Maj. (Rtd) Jessica Alupo, the Prime Minister, Rt. Hon. Robbinah Nabbanja, Vice President Emeritus, H.E Edward Kiwanuka Ssekandi, Ministers, NRM leaders and Masaka District leaders.
At the same event, Gen. Katumba Wamala, the Minister of works and transport informed the congregants that the Uganda National Roads Authority (UNRA) has engaged a contractor to repair Katonga bridge.
He clarified the contractor has commenced on restoration works and is expected to complete one way crossing within seven working days for public to use. He added that the contractor shall then embark on construction of a permanent bridge including improving the approach roads by raising the roads levels and introducing the missing relief culverts. He said that the civil works will take about 18 months.
He also promised to maintain well all tarmacked roads and ensure that all murram roads are passable. Gen. Katumba revealed that the government released Shs. 425,077,822 to Masaka District Local Government for road maintenance in the financial year 2022/2023.
He outlined the recently completed road projects namely; Kanoni-Ssembabule-Villa Maria road (110Kms), Masaka -Bukakata (36Kms), Masaka-Lambu Landing Site (5Kms),Masaka-Nyendo-Kijjabwemi (7.3), Masaka Town roads (10.5Kms), Nyendo-Kitovu Cathedral-Hospital-Nakayiba (4.68Kms), Kako Cathederal link to Bukakata road (1.56Kms), Nyendo Villa Access (1.03Kms), Old Kumbu- Mulago road (1.9Kms), Muteesa 1 Royal University Access (1.33Kms).
The Minister of Works and transport outlined Masaka planned road projects namely; Lusalira-Konge-Lumegere-Ssembabule ( 97Kms), Luku-Kalangala-Mulabana (65.3Kms) they are seven in number, Town Roads (10.67Kms) and Two Ferry Landing Sites, Rehabilitation of Masaka-Kyotera-Mutukula (89 Kms), Ntusi-Lyantonde-Rakai (105Kms) among others.
In conclusion he requested the masses to monitor the contractors and report those doing shoddy work. He requested the motor mechanics to stop pouring oil on the roads which make them wear-out quickly. Gen. Katumba further warned those fond of burning tires on the road to stop it or else they will be charged of road misuse and imprisoned for five years.
Ms. Allen Kagina, the Executive Director of Uganda National Roads Authority (UNRA) said that UNRA is aware that along Mpigi-Ssembabule road there are people who were not compensated because of conflicting land titles. However, they have a team on the ground solving the issue.
"About Masaka-Kyotera-Mutukula road, the residents along that road should know that it's an old road, and there is a road reserve. However, once UNRA needs to expand the road it will compensate the affected persons," Ms. Kagina added.
At the end of the rally His Excellency the President of Uganda was shown products produced by members of Greater Masaka who are beneficiaries from government development programs like; Operation Wealth creation, and Emyooga.
The items displayed were raw coffee seeds, roasted coffee seeds, crude oil extracted from palm tree seeds, refined cooking oil got from palm tree seeds, brooms made from palm tree leaves, blue band made from palm tree seeds, Kimbo made from palm tree seeds, Cowboy made from palm tree seeds, White star washing soap and magic washing powder made from palm tree seeds, liquid soap, clothes, among others.